Waiting in the Wings
Amanda Joynt
Doctoral Candidate, University of Waterloo
At the start of my field research, I boarded a bus to Mzuzu from Lilongwe. My seatmate eventually started a conversation. He was from Malawi, he said, but had been away for a long time. After 15 years, he was finally going home to visit his family. We chatted about our lives until our next pit stop, staying on the bus while street vendors held up cookies and vegetables to our open windows as potential snacks for our ride. Small boys yelled for empty bottles to be dropped out of the windows. He looked at them, then at me and quietly asked, "What do you think of Malawi?"
This is a loaded question for someone like me. Worries come to mind about what the inquisition means to the asker, or if you will come across as ignorant or patronizing, or if something will be taken the wrong way. I decided to let those worries go, take a breath, and tell the truth. "It's frustrating," I said. "Malawi has so much…potential. Farmland, a freshwater lake, strong family ties and communities, kind, intelligent people. Malawi could just be…" and my voice trailed off, not finding the right word. My seatmate nodded, "Yes."
I lived previously in Malawi from 2004-2006. My work took me to both the north and south of the country, and a relieving change in the scenery is the lack of coffin shops along the sides of the highways. HIV hit Malawi hard in the 2000s. It was common, and heartbreaking, to lose friends and colleagues. The change fourteen years later is clear. Anti-retroviral therapy (ARV) has been rolled out, and the numbers of children on city streets is noticeably lower. The middle class in Malawi, growing in 2006, has increased dramatically along with that in the rest of the continent. South African chain stores have multiplied across the country. Aid agencies and government billboards promote modern agriculture and education for everyone.
And yet, my seatmate on the bus agreed that there is still something off, something frustrating. His opinions centred around politics and corruption. "We are talking about two sides of the same coin," he said. "They (the politicians) should use our potential. But they are afraid of us taking away their power." The potential is obvious – my QES placement partner, the Church and Society Programme of the CCAP Livingstonia Synod, is full of highly intelligent and qualified Malawians – a journalist, a human rights advocate, a statistician, development experts, and much more. In all of my interactions during my field research, it felt like there is a Malawi that waits in the wings, sitting in the hopeful minds of the growing middle class.
Some things have not changed – daily harassment of women and girls, high rates of informal work, an underfunded health system, and those below the poverty line still struggling daily to find food and work. It seems the solution is obvious – there is a host of Malawians prepared and able to bring their vision to light. My seatmate was right – the leaders of any society that uses its human potential and its resources will find that there was nothing to fear after all. All they have to do is let those worries go, take a breath, and tell the truth.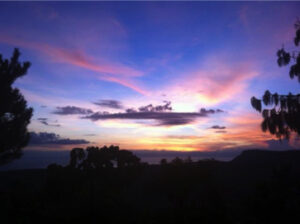 Amanda Joynt: Sunrise – View from Livingstonia