Reflections on Community Engagement in Cape Town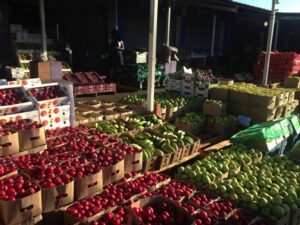 Graeme Young
Research on food system governance naturally lends itself to community engagement. Such activities not only allow us as academics share our expertise with the wider public in the hope that our work can have a positive real-world impact, but also provide us with the opportunity to interact with and learn from people outside of traditional university settings and incorporate new perspectives into our work. It is in this spirit that a group of researchers from the African Centre for Cities participate in a Local Food System Governance Community of Practice (CoP) organized by colleagues at the University of the Western Cape. The CoP aims to bring together key stakeholders from across Cape Town's food system—including academics, activists, city and provincial officials, civil society groups and traders—to engage in dialogue and inform policy approaches to food system governance in the city. With a broad mandate and an overarching concern for policy improvements in a city where inequality is high and household food insecurity is common, it has no shortage of potential issues to address.
Researchers at the African Centre for Cities recently had the opportunity to lead a day-long field trip that offered CoP participants an insight into three key sites in the city's food system: the Philippi Horticultural Area, a major source of agricultural goods that lies within Cape Town's urban limits; Cape Town City Market, the city's largest market space; and Belleville Station, a central transport hub on the eastern edge of the city where informal traders gather in large numbers to sell their goods to commuters. The trip not only offered participants a glimpse into the food value chain from production and distribution to the point of sale, but also—perhaps more significantly—presented an opportunity to reflect on some of the complex power dynamics that complicate food system governance.
Food systems are fundamentally shaped by power relations. Each link in an urban food value chain is defined by its legal and regulatory environment, patterns of ownership and internal operating structure, all of which can be deeply political and, in many cases, characterized by fierce contestation. In Philippi, sharply conflicting views exist surrounding how the area should be developed and whose interests it should primarily serve. Claims that the area is the source of most of the city's fresh produce strongly supports the position that it should be protected and remain sparsely populated, but the complexity of Cape Town's food system means that such assertions are difficult to verify. Others believe that the abundant land in Philippi should instead be used to meet the serious need for affordable housing in the city. Proponents of each position can claim to support an inclusive vision of urban development; some of these claims, however, may be more sincere than others, as apparent appeals to the collective good can mask self-interest and involve plans with limited public utility. Both Cape Town City Market and Belleville Station experience the type of conflict between formal and informal traders that is common in cities throughout the Global South, with the latter seeking to secure basic livelihoods and the former accusing them of being a source of unfair competition. While both formal and informal traders play an important role in the city's food system, the fact that the informal food economy, by definition, exists at least in part outside of state enforced legal and regulatory systems means that those who operate within it are uniquely vulnerable and enjoy few formal protections in the face of widespread poverty and precariousness.
Engaging with the complex power dynamics of urban food systems forces us as scholars, activists and policymakers to confront a number of difficult questions. Who sets the terms of social justice? Whose perspectives do we choose to hear and whose do we ignore? Whose needs are prioritized over others? What assumptions, biases or ideologies, whether spoken or not, inform our thinking? In short, what stories do we tell ourselves and others about food systems, and how do these inform our analysis and policy beliefs?
These questions do not always have easy answers. But by demanding that we account for and evaluate our own place within the often hidden hierarchies and forms of exclusion that food systems contain, they serve as a useful guide for navigating the complexities of urban life as we think about food system governance.