News and Events
QE Scholar Percy Toriro presents at the New Directions in South-South Migration conference
QE Scholar Yaya Song presents her research on affordable food stores in Nanjing, China
QE Scholar Dr. Percy Toriro's last day in Canada as he says goodbye to his housemate, Alex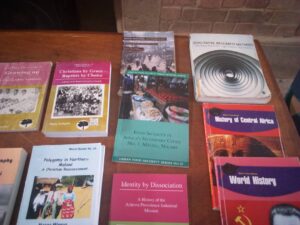 QE Scholar Lovemore Zuze displays the AFSUN report at a book show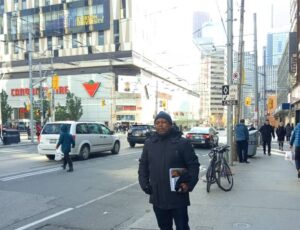 QE Scholar Dr. Percy Toriro attends a meeting in Toronto to learn more about the Toronto Food Policy Council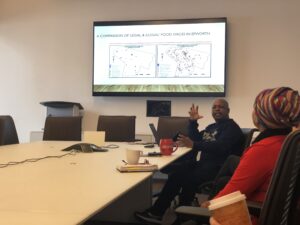 HCP QE Scholar Percy Toriro presents his research on food vendors in Cape Town, South Africa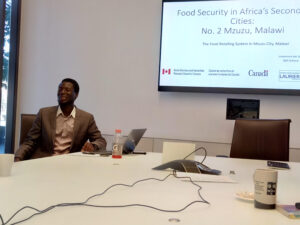 HCP QE Scholar Lovemore Itai Zuze presents his research on food security in Mzuzu, Malawi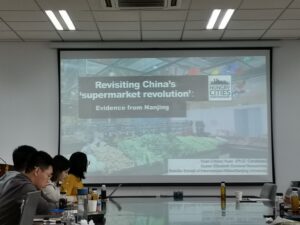 HCP QE Scholar Olivia Yuan Yuan presents her research on supermarketization to her colleagues at Nanjing University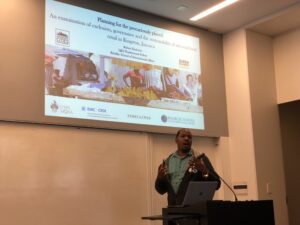 HCP QE Scholar Robert Kinlocke presents his research on informal food retail in Kingston, Jamaica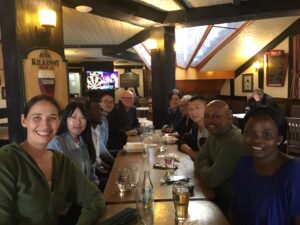 HCP QE Scholars have a lunch gathering at a local restaurant on Sept. 30, 2019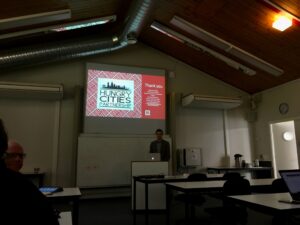 HCP QES Post-Doctoral Scholar Graeme Young presents his research on Governing Cape Town's Informal Economy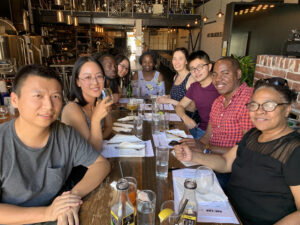 QEScholars and alumni meet to bid farewell to Olivia Yuan Yuan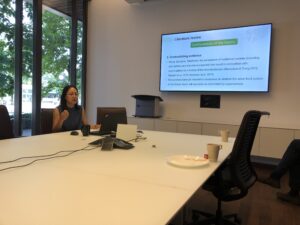 QE Scholar Olivia Yuan Yuan presents her research on supermarketization in Nanjing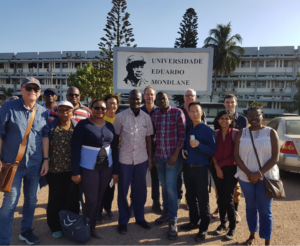 Former and current QES scholars Godfrey Tawodzera, Ndeyapo Nickanor, Ezequiel Abrahamo and Graeme Young present their research at the HCP-CGB Conference on Contemporary Issues in Food and Food Security in Maputo, Mozambique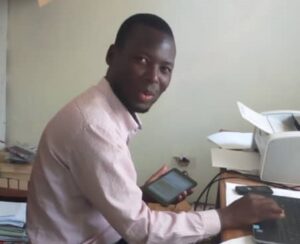 Lovemore Zuze from Malawi starts his QES Early Career Scholarship at the Balsillie School of International Affairs where he will work with Professor Jonathan Crush and Dr Liam Riley on informal food vending in Mzuzu, Malawi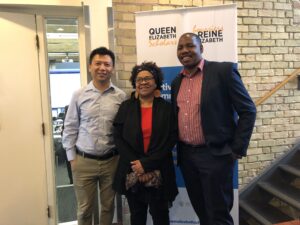 Professor Jonathan Crush and QE Scholars Mary Caesar, Robert Kinlocke and Zhenzhong Si attend the QES-AS Projects Workshop in Toronto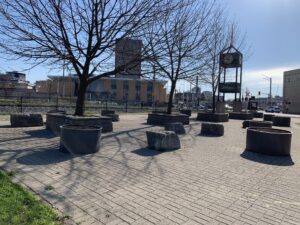 QE Scholars join in community event: Jane's Walk Waterloo Region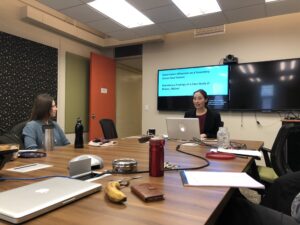 QE Scholar Amanda Joynt presents at WatFIG seminar in Waterloo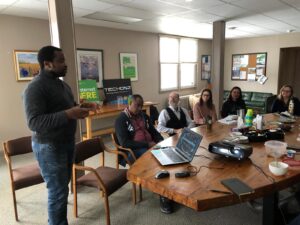 QE Scholar Yanick Borel Kamga presents at the Reforest London event in London, Ontario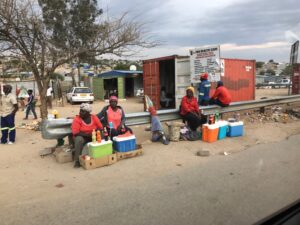 Ndeyapo Nickanor, Hungry Cities Partnership QE Scholar, co-authors article in Sustainability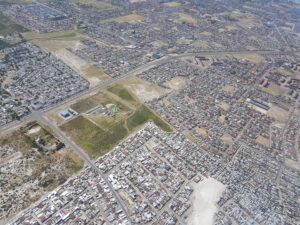 Mary Caesar, Hungry Cities Partnership QE Scholar, co-authors paper on gender and food insecurity in Cape Town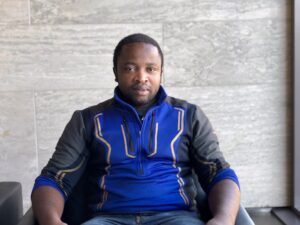 Yanick borel Kamga starts his QE Scholarship with the Hungry Cities Partnership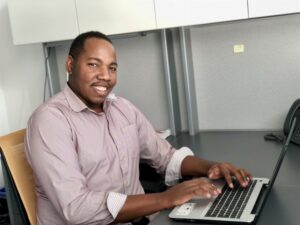 Dr. Robert Kinlocke starts his QE Scholarship with the Hungry Cities Partnership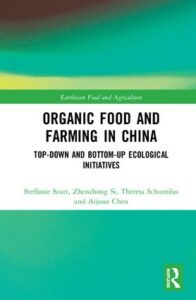 QE Scholar Zhenzhong Si coauthors book on organic food and farming in China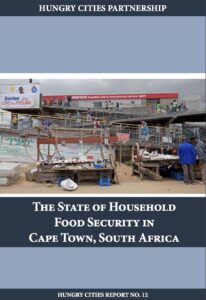 QE Scholar Mary Caesar coauthors HCP report on food security in Cape Town, South Africa
QE Scholar Xinxian Qi reports to his colleagues in Nanjing University on his QES experience in Canada on 14 September, 2018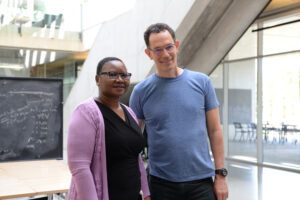 QE Scholar Ndeyapo Nickanor meets with Professor Neil Turok, Director of the Perimeter Institute in Waterloo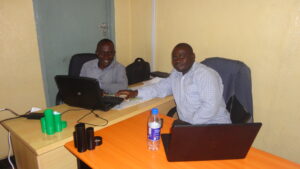 QE Scholar Emmanuel Chilanga works at his QES placement the Foundation for Children's Rights in Mzuzu city.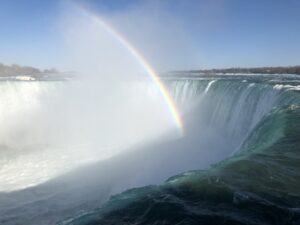 Laurier International organizes trip to Niagara Falls for QE Scholars on 16 August, 2018.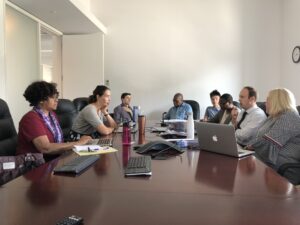 CIGI provide training on writing policy briefs for QE Scholars on 25 July, 2018.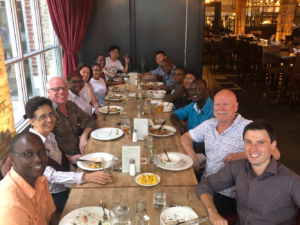 Eight QE Scholars participate in two days of research and knowledge mobilization planning meetings of the Hungry Cities Partnership at the Balsillie School on 5-6 July, 2018.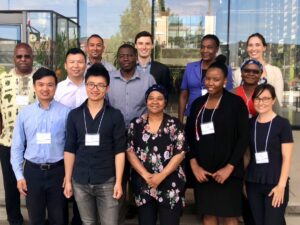 QES Scholars participate in Hungry Cities Partnership and Sustainable Development Solutions Network conference on 3-4 July, 2018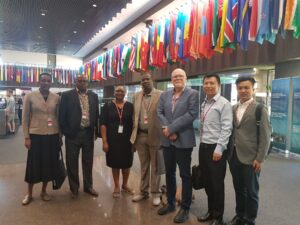 QE Scholars visit Ottawa for consultations with Canadian government officials and representatives of international organizations from 18-22 June, 2018.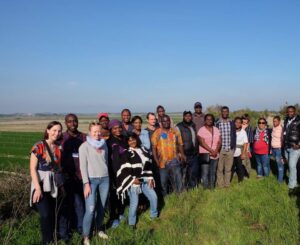 Hungry Cities Partnership QE Scholar from Malawi, Emmanuel Chilanga (front, orange-coloured shirt), attends the PhD training workshop organized by the African Centre for Cities at the University of Cape Town with doctoral students from throughout Africa.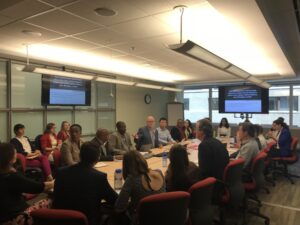 Prof. Jonathan Crush, QE Scholars Godfrey Tawodzera and Zhenzhong Si present at IDRC seminar on 19 June, 2018.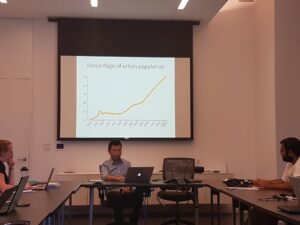 QE Post Doctoral Scholar Zhenzhong Si discusses his research on the food system of Nanjing, China, with graduate students on 14 June, 2018.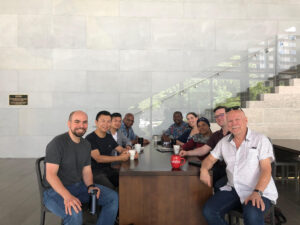 QE Scholars organize a coffee meeting to greet QE scholar Amanda Joynt and new QE scholar Xinxian Qi on 13 June, 2018.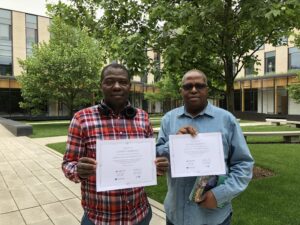 QES Early Career Scholar Godfrey Tawodzera and QES Scholar Ezequiel Alfeu Abrahamo acquire their certificates of the International Law Summer Institute (ILSI), June 2018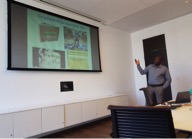 QES Early Career Scholar Godfrey Tawodzera presents research at the Balsillie School of International Affairs, May 2018

QES Scholars Mary Caesar, Godfrey Tawodzera and Zhenzhong Si engage with Waterloo Food Issues Group (WatFIG), May 2018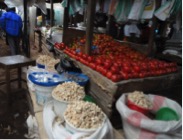 QES Doctoral Scholars Amanda Joynt and Emmanuel Chilanga co-present research report with Lovemore Zuze at Mzuzu University, Malawi May 2018.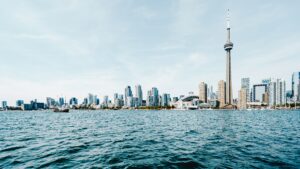 QES Post-Doctoral Scholars, Zhenzhong Si and Mary Caesar report on their work for the Toronto Food Strategy Team, May 2018 here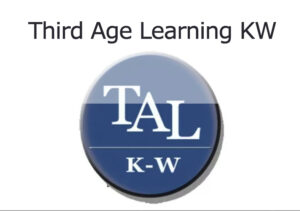 QES Post-Doctoral Scholar, Mary Caesar lectures in the KW Third Age Learning Lecture Series on The Many Faces of Africa, February 2018. See here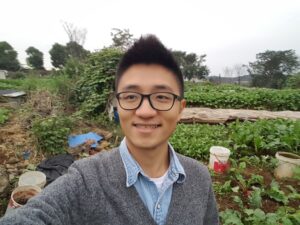 QES Scholar Ning Dai reports from Nanjing, December 26, 2017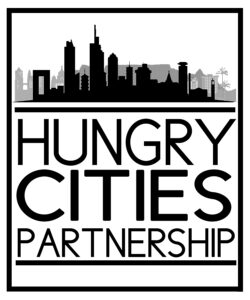 Laurier announces award of QES-AS Project on Building Capacity on Urban Food System Governance in LMIC Cities to Hungry Cities Partnership, April 2017