New Directions in South-South Migration Workshop
Balsillie School of International Affairs, Waterloo, Canada
November 19-20, 2019
On November 19th and 20th 2019, the HCP Co-Hosted a workshop titled "New Directions in South-South Migration" with the International Migration Research Centre (IMRC) at the Balsillie School of International Affairs in Waterloo, Canada. The workshop explored new and emerging research directions in the study of South-South migration including the links between food system transformation and migration, rural-urban linkages, the survival strategies of migrants in rapidly-growing cities, and citizen and state responses to South-South migration. More than 40 researchers of food and migration from around the world attended the workshop. Researchers shared their most recent studies and engaged in discussions around themes including South-South Migration Directions, Migrants and the City, Migration and Rural Transformations, Migrant Precarity and Survival, Migration Corridors, and Urban Policy Environment.
Download Abstracts of Presentations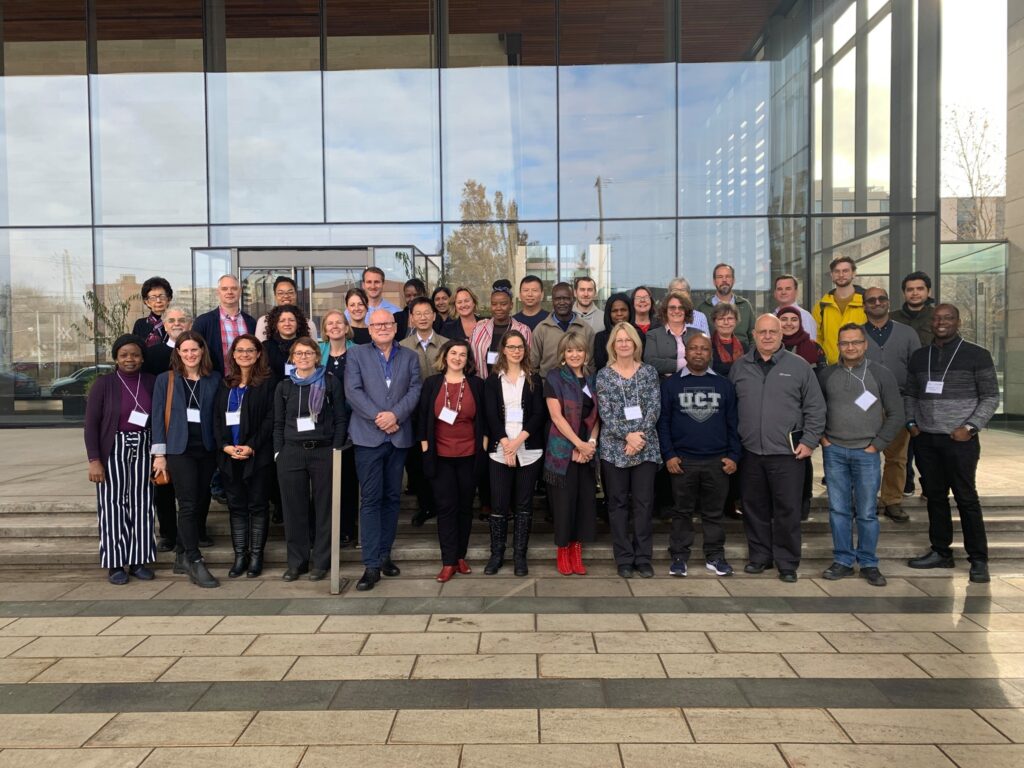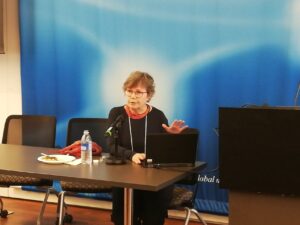 Cecilia Tacoli, Principal researcher from the International Institute for Environment and Development (IIED), gave the keynote address on urban poverty and the urbanization of food insecurity and malnutrition, looking at how the multiple dimensions of urban poverty affect access to affordable and healthy diets. She points out that cities are shaped around food and urban planning is crucial. We need to look at the policies that are implemented that change the shape of cities.
Day 1
Jonathan Crush, Hungry Cities Partnership director, points out that South-South migration is ignored with the dominance of attention on South-North migration. We need to address the profound delinking of migration and food security. In the SDGs, the Global Compact on Migration and other global forums, the links between food insecurity and migration are largely ignored. In the global, regional and national food security agenda, it is rather as if no one moves and in the world of development and migration it is as if no one eats.
Jenna Hennebry of Wilfrid Laurier University and the IMRC – in the panel on South-South Migration Directions, chaired by Sam Owuor, University of Nairobi – discussed the Global Compact on Migration and identified the problems of gender. There is ambiguity around gender and a disconnect between what it might mean to women on the ground in terms of their rights protected in these global commitments.
Elizabeth Thomas-Hope, University of West Indies, discussed migration and its enabling role in inclusive social development in Kingston, Jamaica. "Our research has found that a very important part of remittances is food."
Taiyang Zhong from Nanjing University in China illustrates how rural-urban migrants contribute to urban food security and food localization in China through two ways. One is increasing number of migrant farmers producing food for the local market. The other is the critical role of migrant workers who are operating small food vending businesses.
Sam Owuor, University of Nairobi, discussed the HCP survey findings on household food insecurity in the Kenyan capital. Among the key findings of the city-wide food security survey of 1,434 households was that 70% of Nairobi households experience food insecurity, with one-quarter severely food insecure.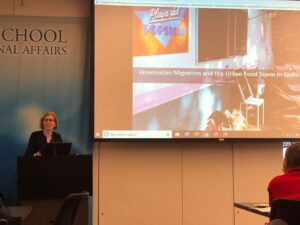 Cheryl Martens, Universidad San Francisco de Quito, showed how urban space is transformed by Venezuelan migrants in Ecuador, their demographics, livelihood strategies and food security conditions. She argues that food insecurity is a major reason why people have left Venezuela. Discrimination experienced by Venezuelans in Ecuador makes it hard to find work in Ecuador – that's why so many are self-employed and are drawn to the food truck industry.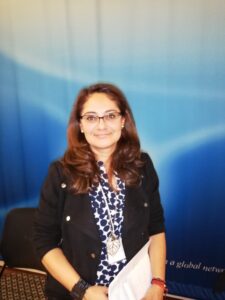 Maria Fernanda Vazquez, Universidad Autónoma Metropolitana, discussed Mexico City and recent issues of immigration. People who move to the city from rural areas find food more expensive, of reduced quality and freshness and that they can't find all the foods they are used to eating.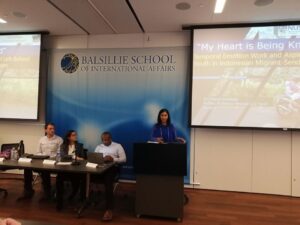 Bittiandra Chand Somaiah, Asia Research Institute, National University of Singapore, discussed left-behind youth and their aspirations in Indonesian migrant-sending villages.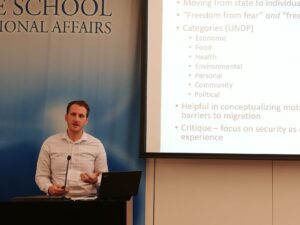 Warren Dodd, University of Waterloo, presented on human security, migration and rural livelihoods in Honduras. Among his conclusions was that education without corresponding rural investment equals migration.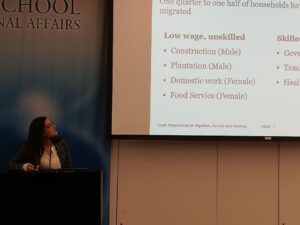 Siera Vercillo, University of Waterloo, discussed youth perspectives on migration, poverty and the future of farming in rural Ethiopia. She said research finds that food insecurity is correlated with skill levels of migrants. Where people are able to sell enough of their produce, there seems to be less unskilled migration. Unskilled migration is not because young people do not want to farm. Young people who migrated for unskilled labour found their food insecurity and poverty remained a major concern.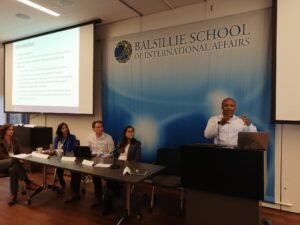 Vincent Kuuire, University of Toronto Mississauga, talks on the effects of migrant status and social capital on tenure security among farmers in Ghana.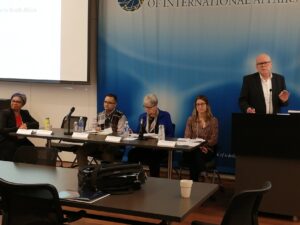 Hungry Cities director Jonathan Crush presented the results of research done with Godfrey Tawodzera of the African Centre for Cities, University of Cape Town, on Zimbabwean migrants in South African cities. Hunger is a significant driver of migration from Zimbabwe to South Africa. Food insecurity is extremely high among Zimbabwean migrants in South African cities and dietary diversity is extremely low. With very few migrants eligible for social grants, around one-third rely on borrowing or sharing food. Many have come to South Africa to remit but this process makes them more vulnerable to food insecurity. There are strong connections between food security and migration and these need further exploration.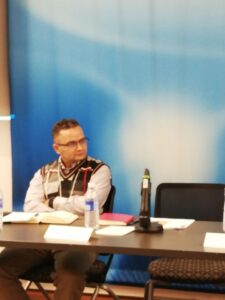 Anil Dhakal, University of Waterloo, discussed the relationship between remittances, entrepreneurship development and household food security in Malawi.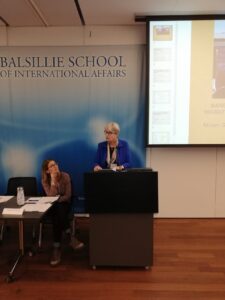 Hunger is the inner lodger in homes which are no longer sanctuaries – Miriam Grant, University of British Colombia, in her presentation, Barely Room: Lodging, Migration and Food Security in African Cities. Vast numbers of tenants have a hostile relationship with their landlords, they feel trapped. They have no lease agreement, just an oral agreement, which means tenants can be evicted for any reason or have their rent raised with no advance warning.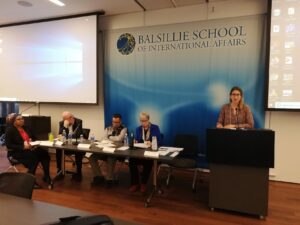 Diana Thomaz, Balsillie School of International Affairs, discussed the housing struggles of disenfranchised migrants in Sao Paulo, Brazil.
Day 2
Margaret Walton-Roberts, Wilfrid Laurier University, discussed nurse migration from south India to the Gulf. Fraud and exploitation concerns have led to nurses being included in the Emigration Clearance Required (ECR) system of migration, which is routed through select public sector agencies. But it's important to understand the informal routes being used to understand true scale of migration. Very little effort is being made to improve salary and working conditions in India to address systemic drivers of migration.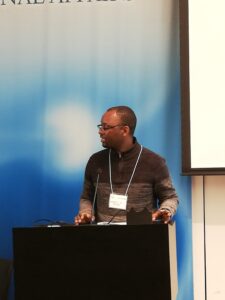 Abel Chikanda, University of Kansas, chaired the session on migration corridors at the start of the second day of our workshop.
Ray Jureidini, Centre for Islamic Legislation and Ethics, College of Islamic Studies, Hamad Bin Khalifa University, explained the Kafala System in Qatar that governs migrant workers from Asia and associated corruption and reforms. Kickback bribes are huge – to the tune of billions of USD – despite the fact that labour laws in Qatar and other Gulf states ban workers having to pay money to get their jobs.
Stacey Wilson-Forsberg, Wilfrid Laurier University, talked on the phenomena of migrants stranded in Mexico. Migrants often spend long periods in countries of transit. The journey north from the Guatemala border to the United States has left thousands of people from Central America, the Caribbean and African countries in a state of limbo where they struggle to establish their right to stay. They finds ways to survive with the help of civil society.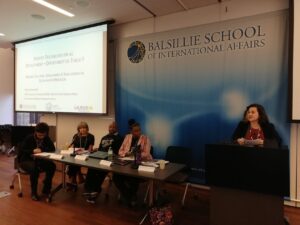 In her presentation, Allison Petrozziello, Wilfrid Laurier University, noted that there are opportunities to expand access to rights, for example, in the leave-noone-behind principle of the SDGs. But in practice, new technologies present several threats and, in the context of migrant exclusion, statelessness and rightlessness in south-south migration, the children of migrants and refugees are indeed at risk of being left behind.
Jennifer Kandjii, Balsillie School of International Affairs, presented research on government policies in South Africa that render refugees and asylum seekers vulnerable not only to food insecurity, but also to violence. Addressing exclusionary and discriminatory policies and practices, and combatting xenophobia in everyday spaces is integral to improving food security among migrants.
In his presentation on migrant vendors and urban food governance in Cape Town, South Africa, Percy Toriro used data collected in the Hungry Cities Partnership survey on informal food vendors in Cape Town. Urbanization, migration, informal trading and urban food systems are interconnected and we need to understand them collectively.
Cherie Enns, University of Fraser Valley, and Stephen Otieno, C40 Nairobi food advisor, presented lessons from Nairobi, Kenya, and Dar es Salaam, Tanzania, with the aim of outlining a framework for developing policy and planning at city level to meet the children's food security needs. In Nairobi, 41% of the 6.5 million population is under the age of 19. The Kenyan capital hosts 31% of the country's in-migrants and the most frequent reasons for migration are unemployment, food insecurity and conflict. In Dar es Salaam, 38% of the population is under the age of 15.