Community Matters When We Talk About Zero Waste
Yuan Yuan
My QES scholarship is in Waterloo, Canada. I was very fortunate to be able to attend a community forum on the zero waste movement and local municipal waste management systems with my Hungry Cities Partnership colleagues from Jamaica and Waterloo on May 16, 2019.
There were four speakers at this community forum, including Ellin Park of Zero Waste Bulk, Chef Thompson Tran of Wooden Boat Food Co., Kathleen Barsoum from the Region of Waterloo Waste Management Division, and Tara McKenna of The Zero Waste Collective blog. Moderated by Jen Novakovich of The Eco Market, panelists shared their experience, insight, and advice for tackling food and packaging waste throughout the value chain to the individual consumers.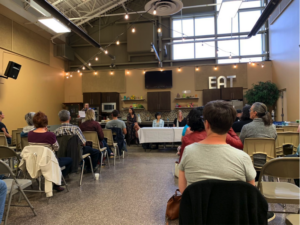 Photo: Zero waste movement and local systems forum
Photo credit: Author / Olivia Yuan Yuan
Ellin Park mentioned the frustration she felt with having to make scattered grocery trips to find package-free foods and zero waste essentials as she tried to minimize her waste. This led her to establish a one-stop zero waste grocery shop, Zero Waste Bulk, which I happened to visit a couple of days before. In this store, you will find package free bulk foods, soaps, DIY products, locally made products and sustainable alternatives to everyday items. Besides the zero-waste grocery concept, I was also impressed by the way these items were arranged as well as the graceful and soft colour of the decoration.
Chef Thompson Tran was also the chef of this event who provided us with delicious Vietnamese dishes. He mentioned the higher cost of providing sustainable disposables, which posed a challenge for reducing packaging waste. Kathleen Barsoum has extensive work experiences in the environmental field. She said the current sorting and recycling practices of waste management in the Region of Waterloo are very good because the region maintained the two box sort, where containers go in one blue bin and papers and plastic bags in another. Tara McKenna shared her experiences of reducing waste and talked about how all of us could take small steps to reduce our garbage output. As the moderator of this forum, Jen Novakovich also talked about the environmental impact of the cosmetic industry based on her direct work experience.
This was my first community experience since I came to Canada about a month ago. I think Food System Roundtable of Waterloo Region, the organizer of this event, has done an excellent job to increase awareness and understanding of the local food system in the community. Now I have learnt more about the importance of reducing waste and how the little changes in our consuming habits could help to build a more sustainable society.
My father is a social worker and I have long been witnessing his passion for providing help and services for the community in my hometown, Zhenjiang city in south-eastern China. Due to the differences in social-economic structure and developmental path, China and Canada have a different understanding of the concept and participation mechanism of community. But both China and Canada have recognized community participation as a critical component promoting all-round social progress. The Chinese government has initiated waste sorting and recycling since the mid 1990s, but a lot of work still needs to be done especially on the feasibility and effectiveness of policy implementation. Through my engagement in this community event, I do believe that community matters, especially for the cause like environmental conservation, which cannot succeed without the effort of everyone. Changes happen when we bring our own reusable grocery bags when shopping for grocery, changes happen when we bring our own reusable containers for leftovers when we dine out. Conveying advocacy of green awareness, the community is a perfect bridge to bring us closer to a more sustainable future.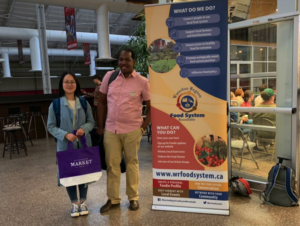 Photo: Dr. Robert Kinlocke and myself at the Kitchener market for zero waste movement and local systems forum
Photo credit: Author / Olivia Yuan Yuan