The ACC International Urban Conference and the Water Crisis in Cape Town
Zhenzhong Si
Feb. 9 2018
I was very fortunate to be able to visit Cape Town with my Hungry Cities Partnership colleagues from Nanjing and Waterloo in early February 2018. We attended the African Centre for Cities 10th Anniversary International Urban Conference. Even more exciting, on the opening morning of the conference, my colleagues and I presented in a food security panel on the food safety issue in Nanjing, China. People were interested in our research findings about Nanjing residents' perceptions of the increasingly serious food safety problems, and the various strategies they have used to cope with the problem. Other cities in the HCP also presented their findings from their household surveys.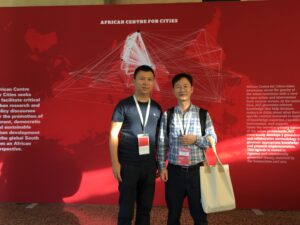 Photo: Dr. Taiyang Zhong and myself at the African Centre for Cities International Urban Conference in Cape Town
There were several panels on food at the conference and this is what interested me the most. These panels offered inspirational reflections on the recent development of food security studies and presented concrete case studies of food vendors in different cities. They stressed the emergence of nutritional dimension in food security studies, the urban-rural linkages, and the necessity to think beyond the city boundary. The discussion following these presentations was also extensive, but I found that an important issue not discussed was the issue of sustainability. I noted from the keynote speakers that food and food security were not necessarily the focal point of the overall conference agenda. I found it quite ironic that the conference lacked a focus on sustainability especially since Cape Town is currently experiencing a severe water shortage crisis. Although this crisis was not so evident at the hotel where I was accommodated, I witnessed the local residents starting their day very early, lining up in front of 'water spots' set up by government to collect water for their households. These water collection spots had long queues in the mornings and evenings. I was fortunate to have what seemed an endless supply of water at the hotel but, it was clear to me that everyone was worried about how long this supply would last. The current water crisis in Cape Town is an excellent example showing that more emphasis and work is required on sustainability issues in urban studies.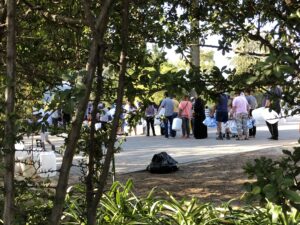 Photo: Local residents lining up to get water for their households
When speaking to local residents we found that the water shortage seemed to reflect the social segregation within the society. While all ordinary households were suffering from the shortage, rich households were still watering their grass. Companies with a closer relationship to local government were also able to secure their water supply. It was also noted that marginalized communities (in informal settlements) seemed to have greater access to water than middle class households in the city. This is because there is no authority monitoring water usage in these communities. We were also advised that spring water can be found near Table Mountain but it is too difficult to get this water supply to the city. Lack of infrastructure is therefore also a reason behind the crisis.